LEW Technical Information
Product type
• 4 race rings with ground raceways
• Plastic cage with rollers
• Franke bearing elements of the type LEW are suitable for medium rotary speeds and accuracies. They impress with their smooth running, high stiffness and compact installation space. The crosswise arranged rollers absorb the same high loads from all directions. Bearing elements type LEW are robust and insensitive to shocks and vibrations.
Characteristics
• Maximum possible integration capacity
• High stiffness
• Greatest possible flexibility of preload, runability and diameter ranges
• Bearing elements type LEW consist of two inner and two outer races and a plastic cage with rollers. The race rings are split in one place to compensate for temperature expansion factors. They have balancing properties in demanding types of stress. LEW are usually installed without backlash. Depending on the requirements, the preload can be adjusted individually.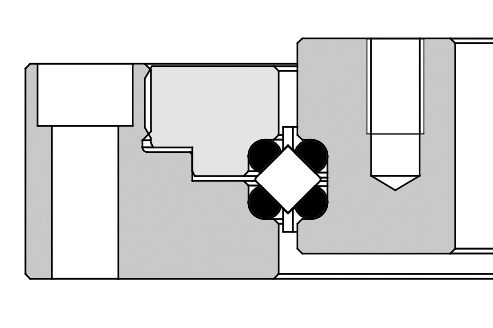 Diameter Range
Infinitely variable from 400 to 1200 mm

Mating structure
The built-in bearing element determines the load capacity of the overall construction. The enclosing construction can therefore consist of alternative materials such as steel, aluminum, plastic. Planarity and concentricity (see diagram on left) are largely defined by the enclosing parts. Increased manufacturing accuracy can further improve these values

Technical Details
• Material: Race rings: 67SiCr5, rollers: 100Cr6, cage: PA12
• Temperature in use: –30 °C bis +80 °C, briefly up to +100 °C
• Circumferential speed: Max. 4 m/s
• Lubricant grease: Shell Gadus S3 V220
• Lubricant schedule: Contact us for further information
•Tolerance details: Contact us for further information
For additional information on bearing selection, calculation, mounting and setting contact us.
Types of Bearing Elements
Contact us
For more information or a no obligation quote please get in touch below.
EXPERIENCE
With a collective knowledge and experience of over 30 years in engineering industry, we work to adapt, create and innovate, to enable us to deliver bespoke engineering solutions to meet your requirements.
DESIGN, MANUFACTURE, STOCK & SUPPLY
From our Lancashire headquarters we offer a one stop shop for all your linear and rotary requirements for both existing applications and new product innovations.
SITE ASSESSMENT, INSTALLATION & FITTING
As a privately owned business we have the flexibility to offer an industry unique full turnkey package to engineers. From site assessment, installation through to fitting.